Welcome to Our Page!

The Park Hills-Leadington Chamber of Commerce would like to welcome you to Park Hills, Missouri and Leadington, Missouri. We hope you will enjoy the friendly small-town atmosphere as much as we have.


The Park Hills and Leadington communities have both played roles in Southeast Missouri's rich mining history. The "Lead Belt" was once one of the largest producers of lead in the world. With the depletion of this resource, the cities have met the challenges of transitioning from a mining-based economy to one much more diversified. Many small businesses are flourishing and more start-up businesses are opening each year.


We are very proud to have one of the finest community colleges in the state within our city limits. Both cities share an award-winning public school system, which is fully supported by a proud community.


If you enjoy the outdoors, you will love our parks. Our city parks are well-maintained and we are blessed with St. Joe State Park, one of the most visited state parks in the U.S., located right on our doorstep.


Whether just visiting or a new neighbor, you will find that Park Hills and Leadington are friendly, fun-filled communities. If you have any questions, please don't hesitate to contact the Park Hills-Leadington Chamber of Commerce at (573) 431-1051. It is a distinct privilege to welcome you to our cities.


Sincerely,


The Park Hills-Leadington Chamber of Commerce Board of Directors & Staff


New Name & New Home!


A beautiful day for a celebration!!! We were honored to be a part of the celebration of a cherished chamber investor-- newly named and newly located now slightly to the south! Kindred at Home Community Care - Farmington, MO, officially leaving behind the former name - American HomeCare on Monday, was excited to show off their new home during an open house and joint ribbon cutting ceremony at lunchtime on September 14, 2017!

Investors of the Park Hills - Leadington and Farmington Regional Chambers were awed at the space now occupied by Kindred at Home. Located at 751 Maple Valley Drive in Farmington, Kindred's new location is more than 3,000 square feet of space... up from just 900 square feet at their previous location! Numerous very spacious offices, a training space, a huge reception area, three restrooms, and extensive parking are some of the upgrades they are enjoying at their new location. Not to mention, it's a beautiful, bright, professional space, which is extra inviting and more relaxed for office staff, clients, and guests alike!

Kindred at Home Community Care provides In-home services to support the activities of daily living for persons age 60 and older or individuals with disabilities. Kindred at Home Community Care allows individuals to be independent at home by providing caregivers to assist with chores, personal care, etc. Other services provided are respite and nursing.

Kindred at Home Community Care is also sister to Kindred at Home - Home Health providing skilled nursing and rehabilitative therapy services to you in your home. Their focus is helping you manage a chronic condition or recover from an acute illness, surgery, accident or a change in medical condition.

Thank you to all the crew at Kindred at Home for allowing us to be a part of your special day!

Be sure to stop by their new Farmington location, have a look around, and congratulate them on their new endeavors!
Congratulations to the 2017 2nd Quarter Acclaimed Ambassador!

Congratulations to Mrs. Chelley Odle, who was named 2017's 2nd Quarter Acclaimed Ambassador at the recent July Investor Meeting!

Chelley, employed at KFMO 1240 AM / B104 FM, earned the 2nd Quarter Acclaimed Ambassador Title by spending a portion of her time to serving as a Chamber Ambassador.

She did things such as attend Chamber events and meetings, volunteered her help at various events and meetings, promoted the Chamber by checking in and sharing chamber news and events on Facebook, recruited new Chamber investors, and invited potential new investors to attend Chamber meetings.

Chelley was honored at the July Investor Meeting with Chamber recognition and a huge bag of goodies compliments of our Ambassador Sponsors!

Chelley is so heavily involved in so many things - the community, in an incredible variety of different ways; her faith, wholeheartedly; her family, including the recent addition of her first grandbaby; her work, which we know she adores; and of course, the Chamber, which we can't thank Chelley enough for her dedication and hard work here. We know finding the additional time within a schedule as busy as hers is a feat all on its own. We appreciate you so very much!!

A number of Chamber Ambassadors are recruited annually to help promote and assist the Chamber in the community and at Chamber events & meetings. Ambassadors earn points for attending events and meetings, recruiting & mentoring new investors, and providing the Chamber Board and Directors with assistance in other duties as needed.


Special thanks to our Ambassador Club Sponsors for supporting the Ambassador Program and providing our much deserving champions with some incredible gifts. Our Ambassador Club Sponsors include:


C.Z. Boyer & Son Funeral Homes
Culligan of Leadington
Domino's Pizza
First Bank
First State Community Bank
Habitat Humanity
Heart & Soul Hospice
Isagenix
The Lemonade Stand Boutique
Serenity HospiceCare
Hefner's Ashley HomeStore Opens!!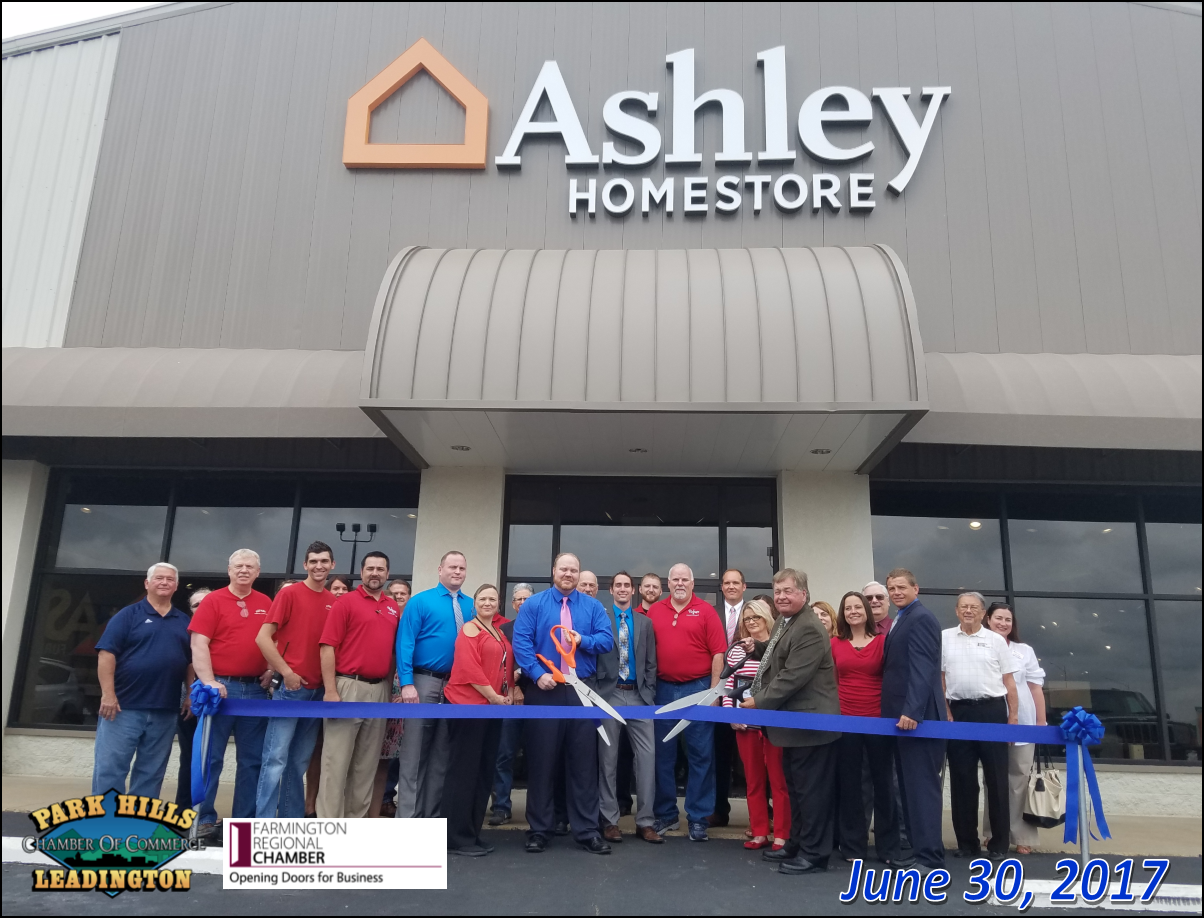 Just when you thought June couldn't get any more full, guess what!?? One last Ribbon Cutting to wrap up the month!!


Congratulations to Slug Hefner, Owner of Hefner Furniture & Appliance - Farmington, and the entire Hefner Furniture Crew on the opening of the BRAND NEW - Ashley HomeStore!!!


We kept the rain away and even brought in some sun so that members of both the Park Hills - Leadington Chamber and Farmington Regional Chamber could be on hand to show their excitement for this beautiful new addition!


Lots of gorgeous furniture; some great pricing & financing deals; and even a $1,000 Grand Prize Shopping Spree Giveaway -- all happening through the day tomorrow! Don't miss this opportunity to stop in, congratulate the Hefner's crew on the new addition, shop for some beautiful deals, and enter to win!


Cafe Redux Celebrates Official Grand Opening!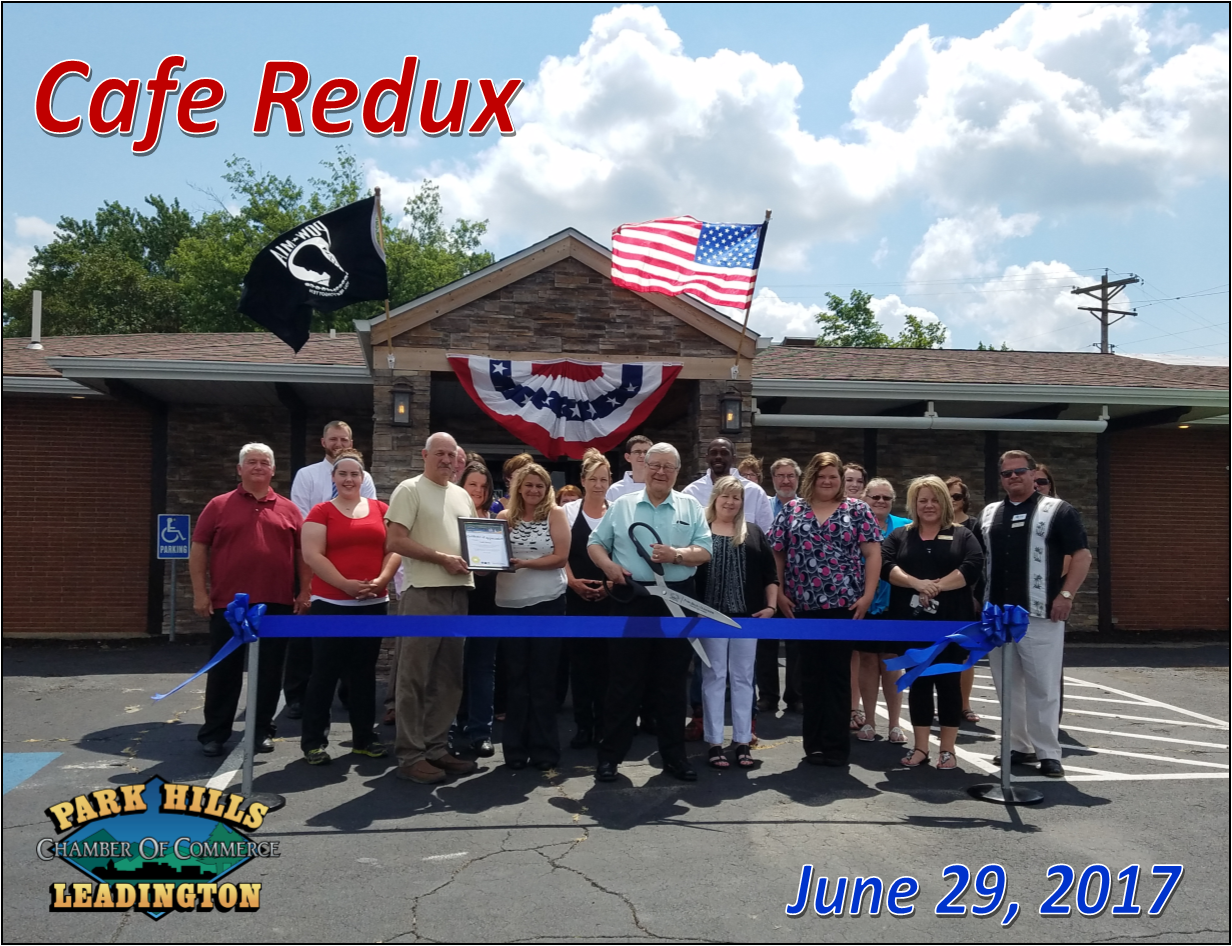 A beautiful day and exceptional attendance for the Ribbon Cutting Ceremony to kick off the Grand Opening of the new Cafe Redux on June 29!


Members of the Park Hills - Leadington Chamber of Commerce were excited to help owner Gary Robinson, and Store Manager, Nicole Brewer to celebrate the "official" opening of the newly "re-done" (hence the "Redux") restaurant.


Cafe Redux boasts fine dining at competitive prices, a full-service bar, three banquet rooms - including a VIP room, and the hope that they will serve this community for many, many years to come!


The Grand Opening Celebration is Friday, June 29th, and features: Lunch Specials from 11:00 a.m. - 4:00 p.m.; Dinner Specials 4:00 p.m. - 9:00 p.m.; Beer and a Wine Tasting. Stop in and congratulate them on their new endeavor!!


Ground Broken for Fairgrounds Drive Extension


The Park Hills - Leadington Chamber is excited to have been a part of the official Groundbreaking for the new Fairgrounds Drive Extension on June 28!

Chamber board members, ambassadors, and investors, along with members of the media, were on hand to help Park Hills City Officials, Park Hills IDA Members, the Property Owner, the Property Developer, and the Project Engineering Firm to celebrate the beginning of this long awaited, highly anticipated project. This groundbreaking marks the first step toward the development of the new St. Joe State Park Trail Head!

Much appreciation was expressed to all those involved in the project during the ceremony. Aside from the property owner, developer, and engineering firm, it was noted that much thanks is due to both the Park Hills IDA and Park Hills Economic Developer, Norman Lucas for their key roles in developing the idea and working diligently for many years to make the dream a reality. Special thanks was also expressed for the Cities of Leadington and Leadwood for their monetary contributions to the project.

Thank you to everyone who attended! We hope you are as excited as we are to have been a part of this moment in history!!
2017 Chamber Scholarship Awarded to Brandon Norfolk


The Park Hills - Leadington Chamber of Commerce Board of Directors is excited to announce that the third recipient of the Chamber Scholarship is, 2017 Central High School Graduate, Brandon Norfolk! Norfolk was awarded the scholarship at the Central High School Academic Banquet on April 27, 2017.

Norfolk, son of Kristy Thomas of Park Hills, will receive $500 per semester, for up to four consecutive semesters, towards his enrollment at Mineral Area College. The scholarship will help with the costs of general studies classes potentially leading to a degree in Wildlife Management.

Norfolk has been actively working toward his career goals throughout high school by taking many dual credit classes such as Elementary Spanish 1 & 2, English Comp 1 & 2, and General Biology, along with maintaining a 3.5 GPA. He has also worked extremely hard to earn the highest rank in The Boy Scouts of America Organization, Eagle Scout.

Norfolk is still determining his exact career path but is sure his degree will be focused on wildlife and nature. His love for wildlife and being outdoors caused him to aspire to be a Fish & Game Warden since the age of 10, however, he also has an interest in teaching biology. His experience in The Boy Scouts of America program will be very beneficial in helping him to achieve his career goals. Norfolk tells us that his family has been active in The Boy Scouts of America Organization for over 50 years, with his grandparents serving as troop leaders for 30 years prior to retiring. In following family traditions, Norfolk is not only an active member of The Boy Scouts of America, but also currently serves as an Order of the Arrow member, and is a four-year member of the Ozark Trailblazers Ceremonial Team.

After college, Brandon plans to stay active with The Boy Scouts of America by serving as a leader; teaching young scouts the values and morals of the organization, and he hopes to inspire other young scouts to earn their Eagle Scout rank. He also plans to donate time to local charities. Norfolk says that participating in the "Scouting For Food" program for more than 13 years has taught him a love for helping others, and he intends to continue this tradition for years to come.

Aside from his dedication to The Boy Scouts of America, Norfolk is a member of the Central High School Band; he loves music; plays the trumpet and guitar; works at Park Hills River Mart; and volunteers at the Veterinary Clinic of the Mineral Area.

As a recipient of the Park Hills – Leadington Chamber of Commerce Scholarship, Norfolk will receive his first $500 installment of funds to assist with either summer or fall classes at Mineral Area College during 2017. Three more $500 installments will be available to Norfolk; one for each consecutive semester he attends Mineral Area College, Central Methodist University, or Missouri Baptist University. He will receive a total of $2,000 in financial aid toward his continuing education studies. After finishing his general studies at Mineral Area College, Norfolk plans to continue his education at Southeast Missouri State University in hopes of earning his bachelor's degree in Wildlife Management.

Finally, one of the recipient requirements of the scholarship outlines the importance of being an active member of the community in which you live, by insisting that the scholarship recipient attend and/or volunteer at one Chamber of Commerce Investor Meeting and one Chamber Sponsored Event such as the Annual Firecracker Run or Sweetheart Trivia Night. We look forward to having Brandon join us at an investor meeting and help at one of our Chamber sponsored events. This will be a great opportunity for Chamber Investors and local members of the community to congratulate him on an outstanding high school academic record and continuing education plan!